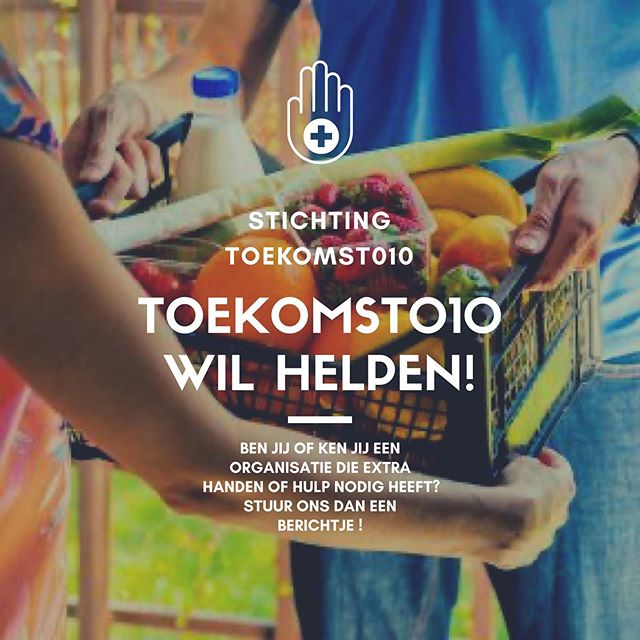 TOEKOMST010 WIL HELPEN !
Achter de schermen zijn wij al een kleine twee weken druk bezig met allerlei initiatieven.
Onze achterban van meer dan 50 scholieren en studenten hebben n.a.v. deze crisis iets meer tijd dan normaal. Deze tijd willen (velen) gebruiken om iets terug te doen voor onze mooie Rotterdam!
Zo benaderen wij als Stichting Toekomst010 verschillende organisaties om samenwerkingen aan te gaan voor in deze crisistijd. Van bloemkwekerijen tot aan vrijwilligersorganisaties, worden er vele benaderd met de vraag of ze bloemen kunnen missen of ergens hulp bij nodig hebben.
We zijn al bezig met superleuke en bijzondere projecten die we komende dagen gaan laten zien.
Echter zijn er nog een heleboel studenten die in Rotterdam hulp kunnen bieden aan organisaties of mensen.
Ken jij of ben jij een organisatie die hulp kan gebruiken omstreken Rotterdam, schroom niet en stuur ons direct een berichtje! Wij zullen snel reageren!
We zullen in de Toekomst (010) alles laten zien via onze social media platformen!
Binnenkort meer informatie over lopende projecten:
Online peercoachingstrajecten, studiekeuze hulp, digitalisering van vergaderingen, samenwerkingsrelaties met andere organisaties!
#Delen en liken wordt zeer gewaardeerd!